5 Reasons Why You Should Blog as a Software Developer
Last update: 2015-12-10

Blogging has become way more than a little hobby. Blogging offers great possibilities you can find nowhere else. Especially in the software development area it's pretty hard to stand out given the amount of great developers around the world.
In this post I will share my experience on blogging and how your life and job can benefit from blogging. If you already have a blog, I would be happy if you leave a comment below to share your own results with others!
1. Show your Skills and Expertise
Having a blog means presenting your skills and knowledge to the world. This isn't always easy.
If you think "I am such a beginner, everyone knows more than me" than just stop that thought, because it's completely not true. When I started, I was just learning this and that about the Ionic Framework and 2 months later I had a guest post on the official Ionic blog.
Have I been an expert at that point? Hell no.
But I was interested and had the courage to just ask them. They are looking for people just like you!
A short time later I submitted a post to a writing contest, and I made the 3. place in the whole competition.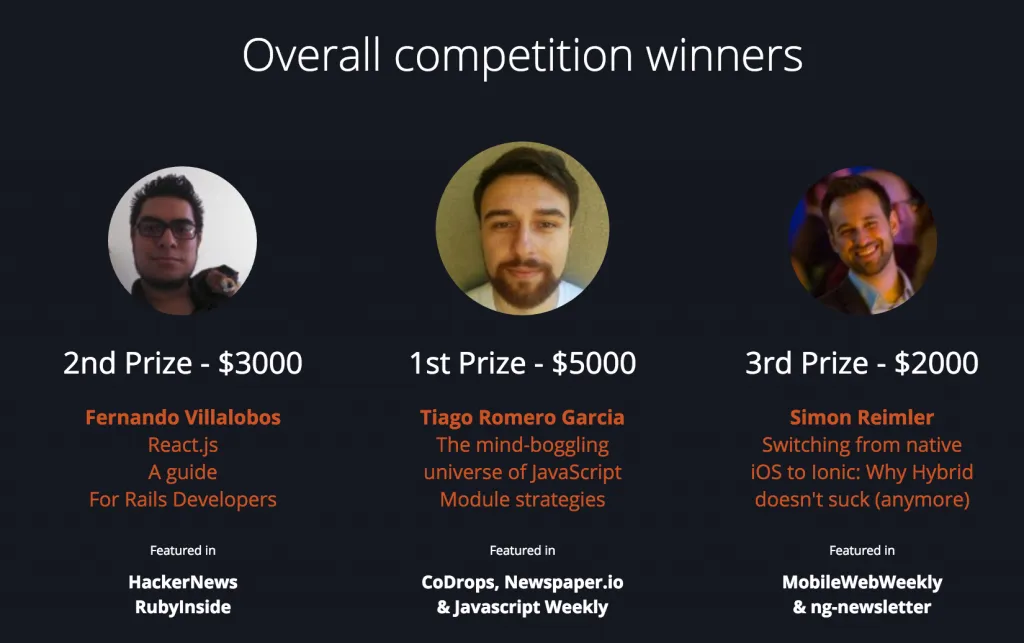 Again, I was by no means an expert! Just go out and show your skills, and people will be thankful that you share your knowledge.
So these little success were great, but don't directly affect your job. What can affect your job is what others can see and read about you online. A solid Github account, apps in the Appstore or a coding blog help you to more easily show your skills to recruiters. If they see what effort you put into helping and learning new tools, you are well on the way to become successful.
I hope you get the point: To Blog as a Software Developer can affect your career and opportunities only in positive ways. Showing your skills these days is the most powerful instrument to get a new job or raise.
2. Learn new Technologies and Soft Skills
Since I started this blog, I have learned various new technologies and frameworks, just because I want to present them to my readers. As a developer, you should have a natural interest in learning new skills, just to stay on top of the game.
"Anyone who stops learning is old, whether at twenty or eighty. Anyone who keeps learning stays young." - Henry Ford
Being at the edge of technology is so much fun while also challenging. You have to deal with problems no one ever had, which builds up your own skills to solve problems and also increases your arsenal of tools.

Having encountered and learn new technologies online allows you to promote them where you work. You get a bigger picture of the current technologies and become in general a more "fullstack" developer.
But to Blog as a Software Developer is not only about learning new technology stacks and languages, it's also about learning completely new skills: Marketing yourself as a Developer.
A great resource on why you need to market yourself comes from John Somnez, who is sharing all kinds of strategies and advice on his own blog. If you are not sure why this is relevant, just check out some links on his blog.
Why sou should market yourself?
Simply having more opportunities as a Developer.
3. Get a deeper understanding by Teaching
So far the reasons I discussed were mainly related to your job, opportunities or career. This one is more about your skills in general.
If you follow tutorials, use code from Stackoverflow and so on you merely touch learning something. You might get better by repeating, but you will not completely understand what you are doing.
Writing a blog post about a topic or even a tutorial challenges you. You need to understand what you do, to write and teach to others. You won't find any words if you have no idea what you are doing!
Have you ever explained something to a colleague? You can only do this if you understand what you are talking about. Same counts for blogging.
By regularly exploring, learning and teaching you increase your knowledge about languages and frameworks in an unbelievable great way. What you teach once won't be forgotten so fast!
4. Build relations with other developers
The life of a Software developer can be a bit lonely sometimes, especially if you work remotely. But also only knowing some fellow developers sometimes doesn't mean you have good relations with them.
While I never thought that blogging would really result in new connections, I must admit: it does.
Connecting with other bloggers helps to grow your blog, but it's even better to talk to someone who does something like you. I was lucky to get in contact with the great Nic Raboy who is a great developer teaching stuff just like me. We are constantly chatting about blogging stuff and I really feel connected with him. He was also the one who accepted my first guest post, so at this point:Thank you Nic, would love to meet you if I come to the USA one day!
There are many more people out there, including not only bloggers both tech guys from great frameworks.
Just having a blog opens the magical doors to talk to all kind of other bloggers to share your thoughts with. You could also do this without a blog, but starting the conversation with a reference to yours and his blog somehow breaks the ice.
Why you want connections? Having real connections can help you, offer you support when times get hard and just feel great in a more and more cold world. Thanks to all the great fellow bloggers I have talked to until now, hope to get to know even more!
5. Expand your blog to your own business
Finally, blogging can lead to great business opportunities.
And I have built up all of this in a year while working a fulltime job, 40 hour workweek and 2 hour commute every day. No excuses!
Once you have your own blog up and running for a while, you can expand into all directions. You can create your own products, write books and sell them, or offer your own services.
If you are a freelancer, you can attract new customers just by showing your skill and also including your portfolio (which would also be recommended for employees hoping to find a new job). The possibilities are countless.
By having an audience you can validate your own ideas for building new products or tools, support and market the stuff you have already created.
You can also make a lot of money from blogging, but I won't cover all the techniques for that in this post. If you are interested in these things, leave me a comment or tweet me!
How blogging can affect your life and career
Blogging as a Software Developer is an amazing way to increase your personality. Whatever you plan to do, a Blog can boost whatever you do. It opens doors where you would never expect them.
Finally, make sure to get on the list for my step-by-step course to start an awesome blog!
Hope to hear from you, Simon